CANNA SEEDS
Canna Lily
Canna generalis
AN01379
SOUTH PACIFIC SCAR­LET Canna Seeds
An All-America Selections Winner, South Pacific Scarlet is the first hybrid canna available from seed that is not a dwarf. Sturdy stalks grow 4 to 5 ft. tall and hold 12 to 18 in. wide, deep-green, upright foliage that resembles banana leaves.
South Pacific Scarlet canna produces spectacular clusters of lily-like, 4 in. wide, brilliant-scarlet flowers with yellow splashed throats. Canna plants are valued for their ability to introduce a tropical look to sunny areas of your garden, and they bloom throughout the summer and into the fall. South Pacific Scarlet canna can be grown in containers, where plants will grow slightly shorter. Winter hardy to Zone 8, canna tubers can be winter-stored in a frost-free place in colder zones. South Pacific Scarlet canna can be grown as an annual in all zones; flowers the first year in as little as 80 to 110 days from seed.
How to Plant Canna Seeds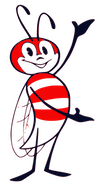 Nick seed coat with nail clippers or knife, then soak in warm water over-night. Next, sow in cell packs or 2 in. pots, ¼ in. deep. Needs darkness to germinate. Cover with newspaper and keep out of direct sun. Apply bottom-heat to improve results. Kept at 70°F., germination is in 8-21 days. Transplant into the garden 18-24 in. apart after all danger of frost.