FOUR O'CLOCK SEEDS
Marvel of Peru
Mirabilis jalapa
Bushy, erect 2 ft. tall plants produce fragrant, 2 in. trumpet shaped flowers in a wide range of attractive colors. Will flower from midsummer until frost with the flowers opening in the mid-afternoon in most areas. In the Deep South, flowers open at sunset. Flowers remain open all night, filling the air with their spicy perfume.
Place near porches, decks or windows, where the flower's intoxicating vanilla scent can be best enjoyed. Winter hardy to zone 8, plants will bloom the first season and are grown as annuals in zones 7 and below. Roots can be dug and overwintered like dahlias.
MARBLES SERIES Four O' Clock Seeds
Many varying patterns of striking two-tone stripes adorn the wonderfully fragrant flowers. Vigorous, bushy 2-3 ft. tall plants flower throughout the warm season.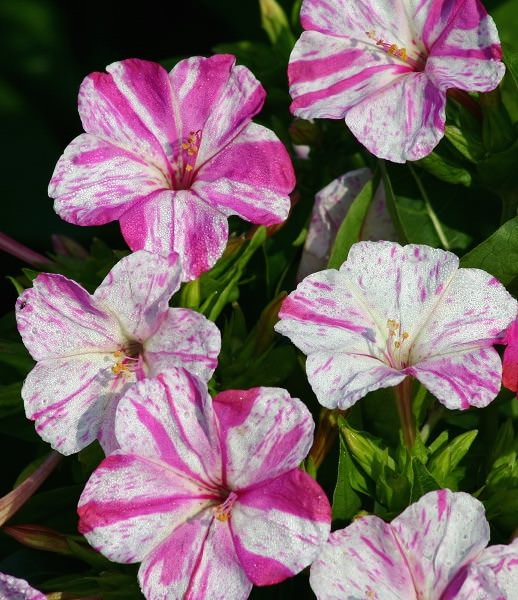 PR01262
MARBLES WHITE-RED Four O'Clock Seeds
Brilliant white flowers striped carmine red make for a bold contrast. A Fleuroselect Approved Novelty. Seed is of the highest quality, provided directly from the breeder.
---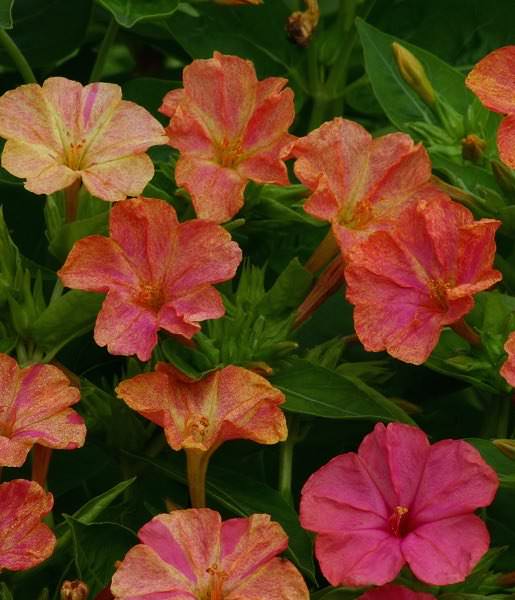 PR01264
MARBLES YELLOW-RED Four O'Clock Seeds
Bicolor flowers become multicolor when soft orange-yellow marbles together with carmine red to make tangerine-pink in subtle stripes and speckles.
---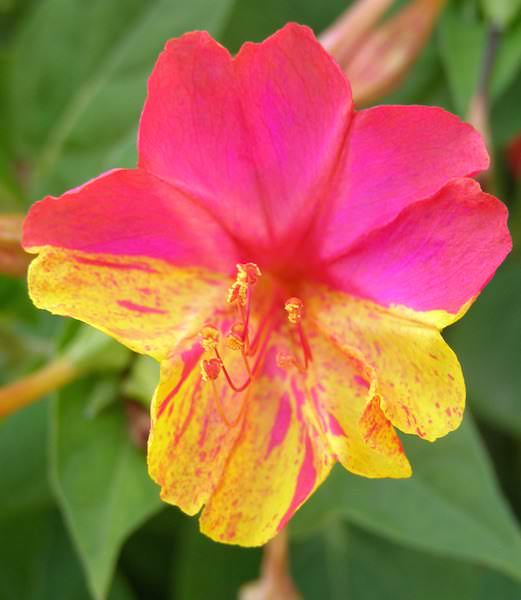 PR02671
BICOLORS MIX Four O'Clock Seeds
Fragrant, red, rose, pink, yellow, and white blooms splashed or marbled in cerise and pink.
---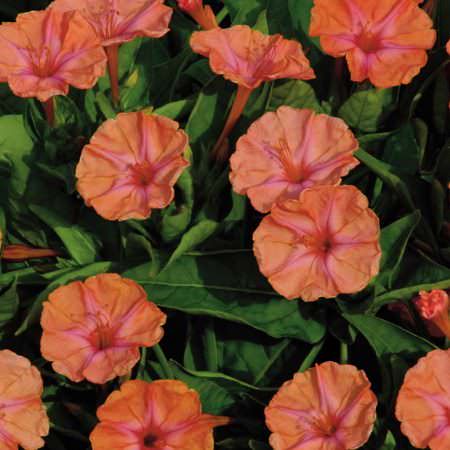 PR01261
SALMON SUNSET Four O'Clock Seeds
Extremely fragrant salmon flowers, with pink central stars. 'Salmon Sunset' Four O' Clocks grow vigorously to 3 ft. tall.
Sorry, out of stock
---
How to Plant and Grow Four O'Clock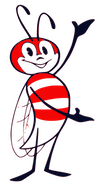 Plant Four O'Clock Seeds: Soak seed in water 72 hours prior to sowing , make sure to change water daily. Direct sow into prepared seed beds in groups of 3-4 seeds spaced 18-24 in. apart. Thin to the strongest plant.
Grow Four O'Clock: Full or part sun. Any soil with good drainage. Better bloom with moderate to regular water. Forms black, carrot-like roots. In zones 7 and below tuberous roots can be dug after the first fall frost and stored in a dry, dark location like dahlias. Flowers attract butterflies, spectacular moths, and hummingbirds. Plants resist drought, rabbits and deer. Flowers are fragrant, open in response to temperature. As the day becomes cooler, flowers open and will remain open until the next morning.