MELON SEEDS
Cucumus melo L.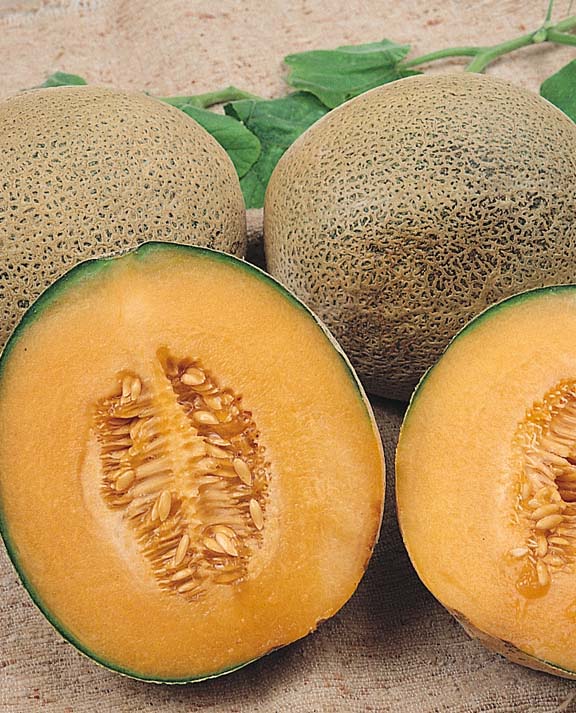 VG10902
AMBROSIA HYBRID Cantaloupe Melon Seeds 85 days
Six in. melons average 5 pounds each. Flesh is deep salmon, juicy, and extremely sweet. The vigorous vines are productive, and disease resistant.
---
VG00334
HONEY ROCK Cantaloupe Melon Seeds (OP) 80 days
Organically grown. Vigorous, disease-resistant vines produce 5 to 7 melons per plant. The round, 6 in. fruits have dense, salmon-orange flesh as sweet as honey. Heavily-netted skin is resistant to bruising, making this a tried and true market variety since the 1930s. Packet is 25 seeds.
---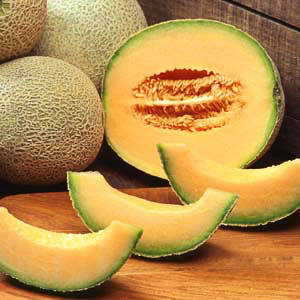 VG00337
HALE'S BEST JUMBO Cantaloupe Melon Seeds (OP) 85 days
Organically grown. Discovered in 1923, this huge, sweet, fragrant cantaloupe type melon can weigh in at 5 lbs. It has dense orange flesh and heavily netted skin. Packet is 25 seeds.
---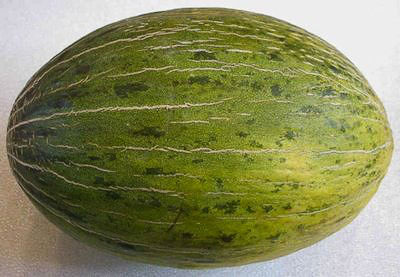 VG11191
SAINT NICK Christmas Melon Seeds 65 days
A Christmas melon with a long-oval shape and green and yellow skin. Can grow up to 10 pounds in weight, 1 ft. in length. Looks like a watermelon, inside the melon has yellowish-green flesh which tastes similar to a honeydew melon.
---
How to Plant and Grow Melon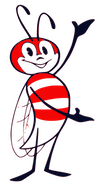 Plant Melon Seeds: Start seeds indoors in 2 in. pots or cell packs 3-4 weeks before the last spring frost or (if you live in a long season area) direct seed into the garden after all danger of frost is past. Kept at 75-90°F., germination is in 5-10 days.Take care not to disturb roots when transplanting. Plant in the hottest part of the garden 2 ft. apart in rows 6-8 ft. apart.
Grow Melon: Use black plastic mulch or drape with floating row cover to give melons the heat they need in marginal growing areas. Most melons will slip easily from the vine when ripe. Smelling the blossom end can also provide an important clue. When ripe Cantaloupe and Honeydew melons will have an appealing fruity fragrance. Christmas melons are picked when the skin develops a waxy feel and the stem end becomes slightly soft. Mature Honeydew and Christmas melons will continue to ripen for a few days after they have been picked.