RADISH SEEDS
Raphanus sativus (Open pollinated)
Direct sow Radish seeds into the garden in spring or late summer to mature in cool weather. When about 1 in. tall, thin to 2-3 in. apart. Harvest as soon as they reach the size you prefer. Successive sowings will ensure a steady supply.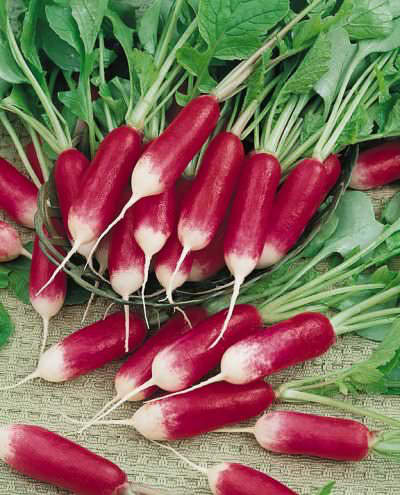 VG00177
D'AVIGNON RADISH Radish 21 days
Organically grown. A dip friendly 4 in. cylindrical radish, intense red with a white pointed tip. Excellent flavor. From Southern France. Packet is 3 grams, about 260 seeds.
---
VG00180
GLORIETTE Radish 30 days
One of the best radishes for crack-resistance, this vigorous hybrid can be harvested long after other varieties become pithy. Gloriette produces crunchy and delicious uniform bright red globes that have a long shelf life after picking.
---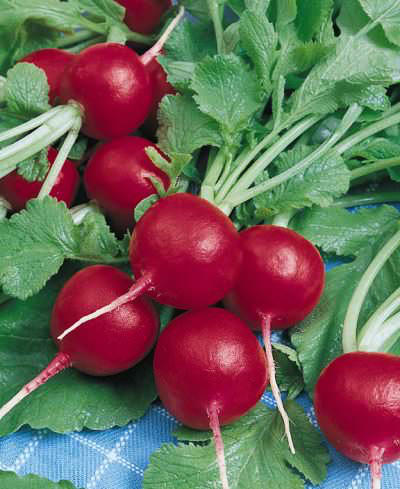 VG09112
CHERRIETTE Radish 20 days
An extra-early, large Dutch round radish with bright red skin and crisp, sweet white flesh. Very high quality and a superior keeper. An All-America Selections Winner . Packet is 2 grams, about 175 seeds.
---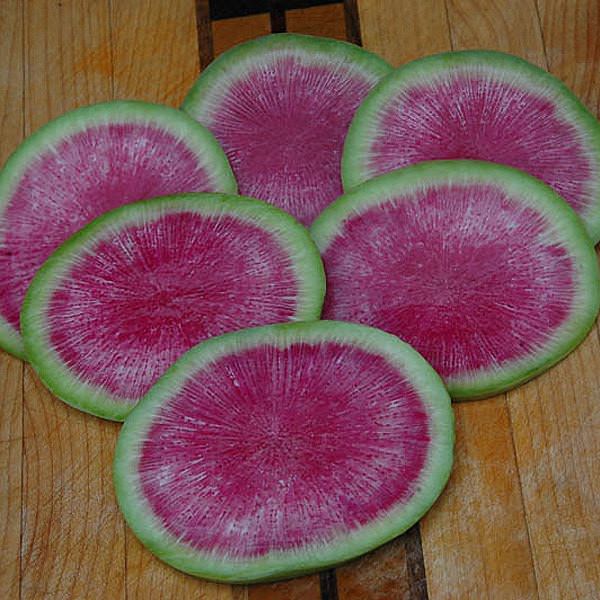 VG00181
MISATO ROSE WATERMELON Daikon Radish 65 days
Organically grown. A huge 4 to 6 in., green to white skinned cool season radish with very crisp, brilliant pink inner flesh . Misato Rose has a mild sweet flavor with a hint of spiciness , perfect for adding to salads. Delicious pickled, too. Best sown in the late summer/fall .
---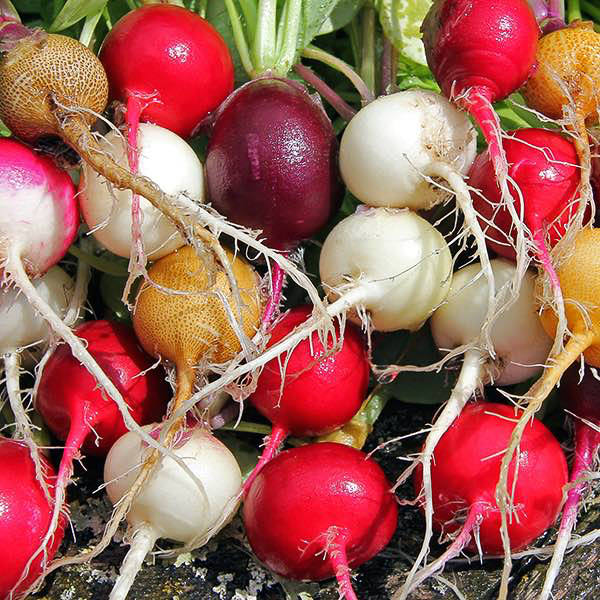 NEW FOR 2017
RDS0001
RAINBOW MIX Radish 28 days
Packet is 5 grams, about 450 seeds.
---
How to Plant Radish Seeds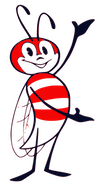 Sow seeds ½ in. deep and ½ in. apart, in rows at least 8 in. apart. Kept at 55-65°F., germination is in 4-11 days. Radish seeds do not germinate well in hot conditions. Thin to 2 to 3 in. apart.