(Go to Heirloom, or Cherry tomato)
SAUCE TOMATO SEEDS
Sauce, Paste and Drying Tomatoes
Solanum lycopersicum
Smallish, richly flavored, extra meaty tomatoes with little seed pulp. Depending on the variety they are perfect for sauces, pastes, purees, drying or fresh eating.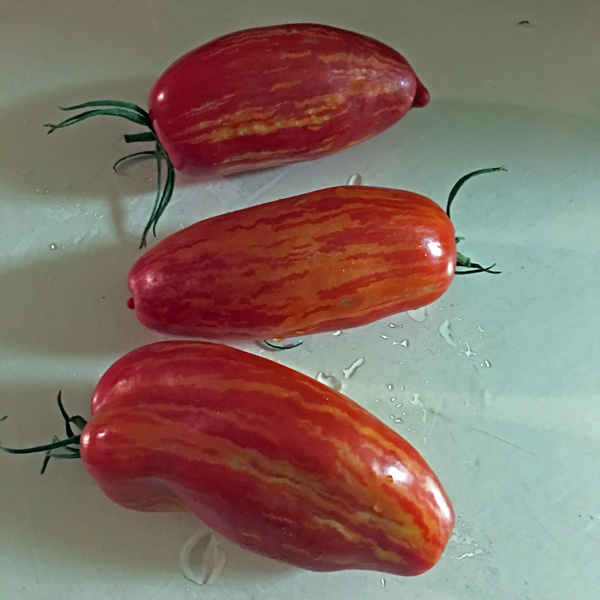 NEW FOR 2018
VG18009
SPECKLED ROMAN Tomato Seeds 85 days
Beneath the red and gold striped skin of these showy 6-8 ounce, 5 in. tomatoes you will find meaty flesh with little juice, few seeds, and rich flavor. Use Speckled Roman in your pastes, sauces, or salads. The healthy, vigorous indeterminate vines are super productive. Speckled Roman was a top performer in the 2017 Swallowtail Garden Seeds test garden.
---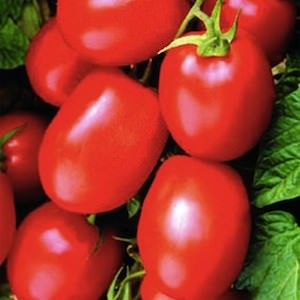 VG00299
HEALTH KICK Tomato Seeds 75 days
The 4 ounce, highly flavored, exceptionally bright red, plum shaped fruits provide 50 percent more of the beneficial antioxidant lycopene than other tomatoes. They are terrific in salads, or use to make pastes, sauces, or sun dried tomatoes. Disease resistant, determinate vines grow to 4 ft. tall
---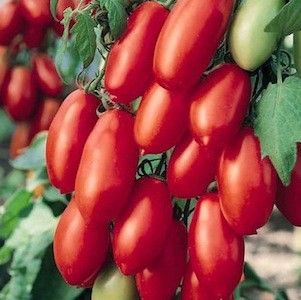 VG00271
SAN MARZANO Tomato Seeds (OP) 80 days
A first-rate Italian paste tomato which is also excellent for canning, soups and sauces. The meaty textured, mild flavored, long and large fruits cook down into a delectable paste. Indeterminate.
---
VG00267
ROMA Tomato Seeds (OP) 65 days
Incredible yields of very richly flavored pear tomatoes that weigh about 2 ounces, and are 3 in. long. These paste-type fruits are meaty with few seeds and not much juice, perfectly suited to cooking, but delicious enough to eat fresh.
---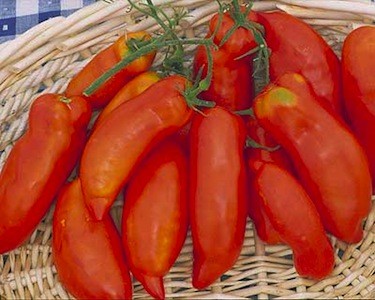 VG01200
SUPER ITALIAN PASTE Tomato Seeds (OP) 70-80 days
Large, firm, reddish-orange 6 in. long, 10 ounce fruits deliver a rich, sweet, tangy, taste. Flesh is meaty, with little juice or seeds and is perfect for sauces, pastes, or canning. An Italian heirloom. Indeterminate.
---
Back to Top
How to Plant Sauce, Paste, & Drying Tomato Seeds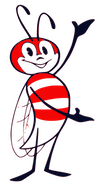 Sow seed in cell packs or flats, press into soil and lightly cover. Kept at 75-90°F., germination is in 8-15 days. Transplant into the garden 2-4 ft. apart after all danger of frost. Cage or stake for best results.