HOT PEPPER SEEDS
Capsicum annuum
Hot peppers range from mildly zippy to truly fiery, invigorating salsas, soups, and sauces with rich, complex flavors. Use hot peppers fresh, roasted, dried, or pickled. Hot pepper plants are colorful additions to the summer garden or in containers, and thrive in the full sun.
VG01143
JALAPENO GIGANTEA Hot Pepper 68 days
Good yields of flavorful, moderately hot, 5 in. fruits for eating fresh, grilling, or making salsa. Large size, and thick walls make this the ideal jalapeno for stuffing. We love ours filled with cream cheese.
---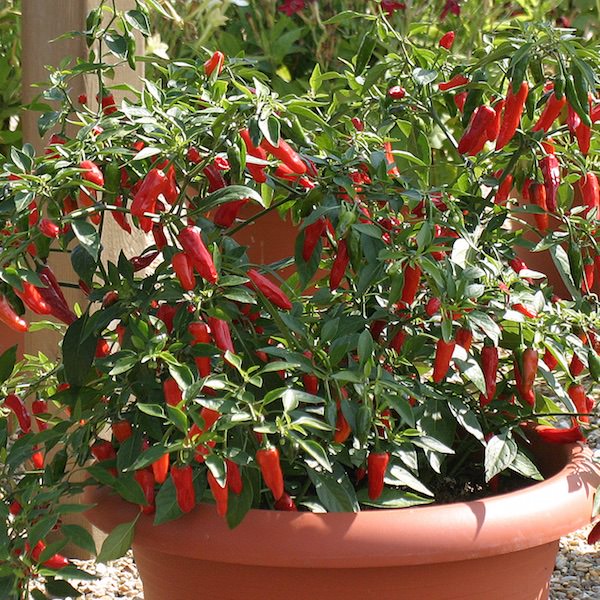 VG09808
APACHE PATIO Hot Pepper 65 days
A superb container or window box variety, Apache patio pepper forms attractive 18 in. tall, heavy yielding plants that produce tasty, 2-3 in. chili peppers that ripen from green to bright red.
---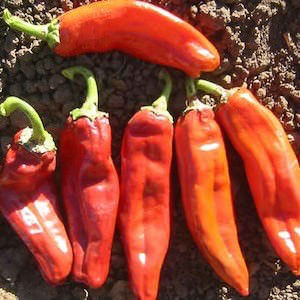 VG01109
BIG JIM Hot Pepper 80 days
8 in. long, 2 in. wide, thick-walled peppers, provide classic chile flavor, are only mildly hot. 'Big Jim' is excellent fresh, roasted, or fried, is a popular choice for rellenos. The 2-3 ft. tall plants are extremely productive, and all fruit ripens at the same time. One of the best pepper varieties for freezing. "Big Jim" is able to set fruit under hot, dry conditions.
---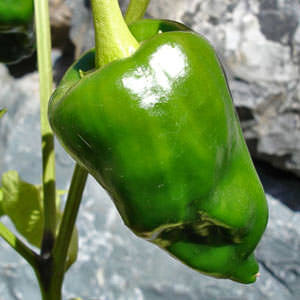 VG00336
POBLANO PEPPER Hot Pepper (OP) 75 days
Elongated, deep shiny green, heart-shaped, mild-flavored with just a touch of heat, Poblanos are the perfect stuffing pepper.
When ripened to a dark crimson red and dried, Poblanos become spicier, are called 'Anchos.' Fruits range from 4 to 6 in. in length, and the productive plants grow to 30 in. tall.
---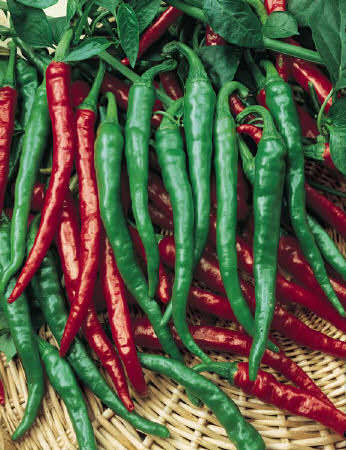 VG00145
CAYENNE, LONG RED SLIM Hot Pepper (OP) 75 days
The 6 x ¾ in. red, wrinkled fruits are quite hot. Dried and crushed they are sprinkled on noodles and pizza, and used to make fiery hot sauces.
---
VG00353
NUMEX JOE E. PARKER
ANAHEIM CHILE Hot Pepper (OP) 65 days
Organically grown. This may be the best all-around mild chile. Tapered 6-7 in. fruits have thick, flavorful flesh which is delicious eaten fresh, or in salsa or fajitas. Very high yielding. An improved version of Numex 6-4.
---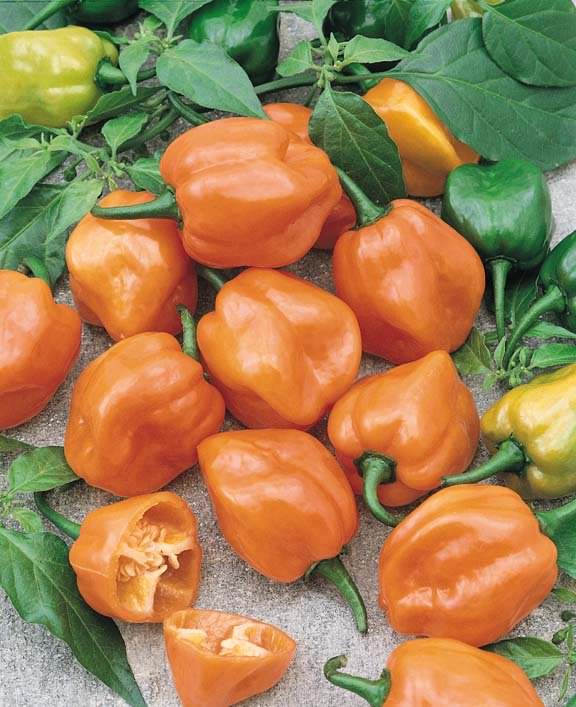 VG00147
HABANERO ORANGE Hot Pepper (OP) 90 days
Japanese lantern-shaped fruits mature to golden-orange and are up to fifty times hotter than jalapenos. A great addition to salads and dips - but it should always be used with caution and handled with care. Needs a long season to mature. Very prolific. Germination can be erratic, unless provided warm soil.
---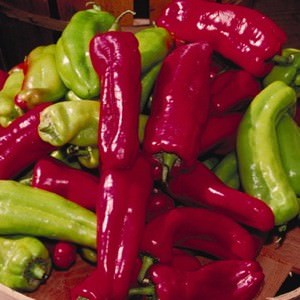 VG09807
CUBANELLA HYBRID Hot Pepper 75 days
Fried, grilled or roasted, these giant 11 in. long, 2 in. wide peppers deliver exhilarating flavor with just the right balance of sweet-hot zest. An Italian type pepper that is especially popular in Caribbean and Puerto Rican cooking. Fruit ripens from green to scarlet, on vigorous, bushy, heavy bearing 30 in. plants.
---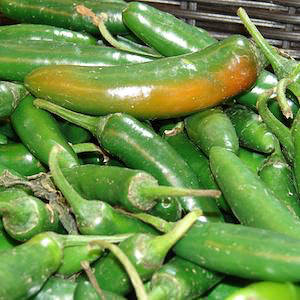 VG09810
EARLY JALAPENO Hot Pepper (OP) 60 days green, 80 days red
Organically grown. Compact, 2 ft. plants set fruit in relatively cool conditions, making them a good choice for cold climates or earlier crops. Moderately spicy, 2 to 3 in. peppers with thick walls are great for eating fresh, grilling, or making salsa.
---
Back to Top
How to Plant Hot Pepper Seeds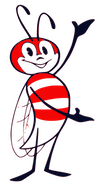 Sow hot pepper seeds indoors in cell packs or flats, 8 weeks before the last anticipated frost. At 70-90°F., germination is in 8-25 days. When the soil has warmed to at least 60°F., transplant into the garden 18-24 in. apart.