MORNING GLORY SEEDS
Ipomoea spp.
13 Morning Glories
The trumpet-shaped flowers of morning glories appear in a wide range of colors including red, white, blue, pink, purple and bicolors. Beautiful, vigorous, twining, heat-loving vines to train on your posts, trellises, fences, or arbors.
Morning Glory seeds cannot ship to AZ, MI, or PR.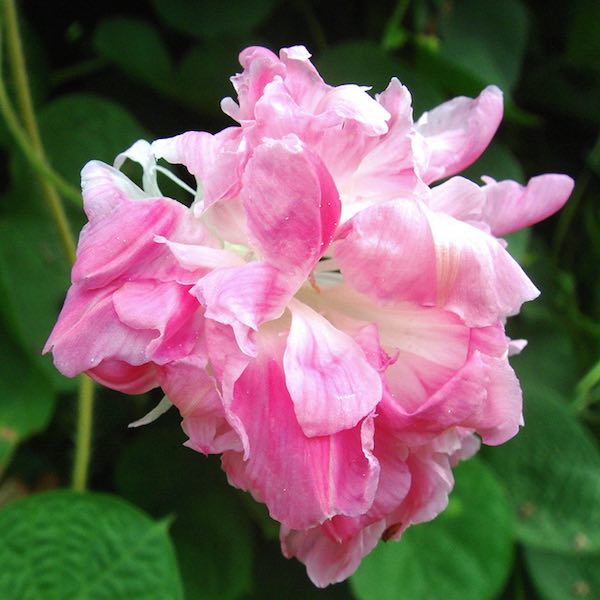 VN18010
SPLIT SECOND Morning Glory Seeds
Split Second produces a bounty of beautiful big blooms brimming with fascinating notched and twisted, silky soft-pink and white petals. These unique peony-shaped morning glories appear from early summer until frost on easy to grow, 4-7 ft. tall vines. Train Split Second morning glory vines on a fence or trellis, or enjoy close up in hanging baskets.
---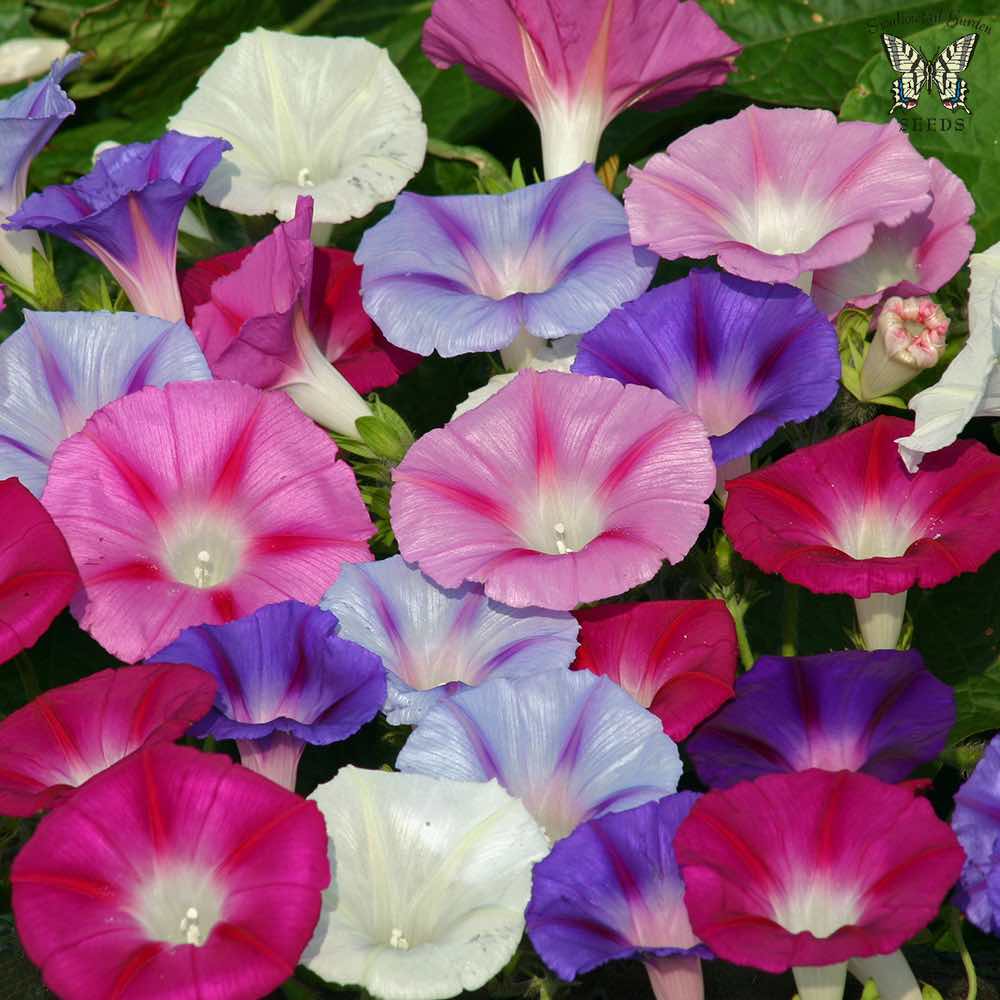 VN18009
LAZY LUXE MIX Morning Glory Seeds
Lazy Luxe Mix is marvelous 10 color mix of morning glories in shades of violet, pure white, deep purple, hot pink, and rosy red. Vigorous vines quickly climb to 8 ft. or more tall, and bloom summer to frost.
---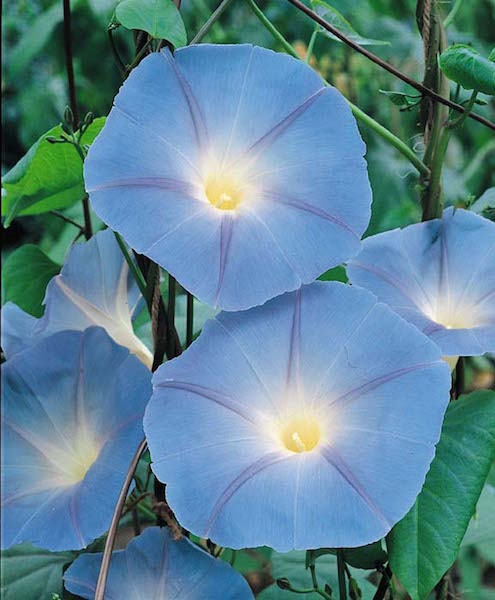 VN00051
HEAVEN­LY BLUE Morning Glory Seeds
The most loved of all morning glories, Heavenly Blue features sky-blue flowers with white throats. Blooms are produced with great freedom on fast-growing, 12 ft. tall vines. Heavenly Blue was an instant success when introduced in 1931, and remains the most popular morning glory to this day.
---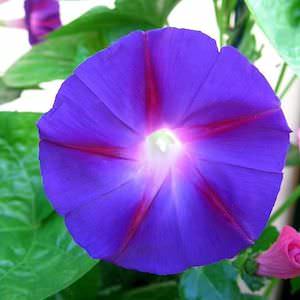 VN00049
GRANDPA OTT Morning Glory Seeds
Grandpa Ott morning glory is a gorgeous heirloom morning glory once on the edge of extinction. Plants display large rich velvety royal purple trumpet-shaped flowers. Each bloom is embedded with a bright rose star, and pink throats make the flowers glow. Vigorous growing vines to 12 ft. tall.
---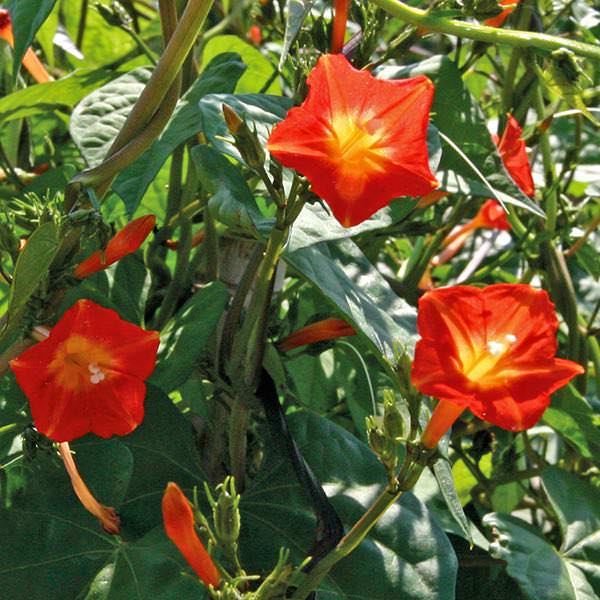 New
MRG0001
SUN­SPOTS Morning Glory Seeds Ipomoea luteola
Sunspots has smaller leaves and flowers and is shorter growing than most morning glories. Hummingbirds adore the prolific citrusy-orange 1 in. flowers which cover the heart-shaped leaves from spring through fall. Vines grow to 5 ft. tall.
---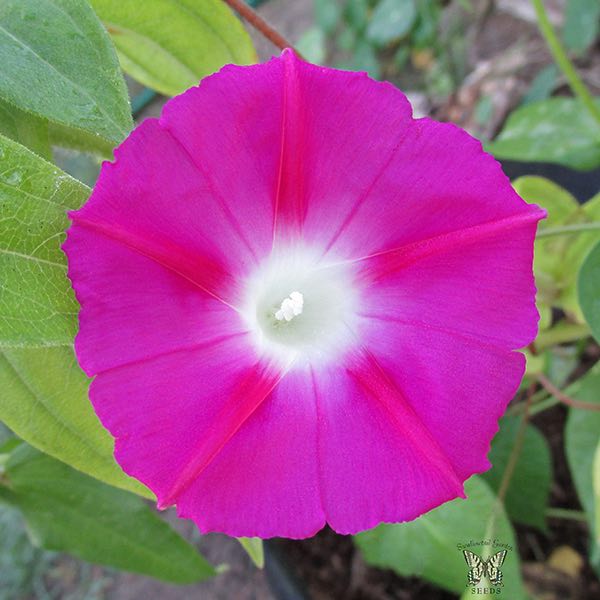 VN00037
CRIMSON RAMBLER Morning Glory Seeds
Crimson Rambler morning glory flowers are cherry colored with white throats. Hummingbirds find them irresistible. Plant Crimson Rambler where you will have a great view of your happy hummingbirds. Vigorous growing vines to 12 ft. tall.
---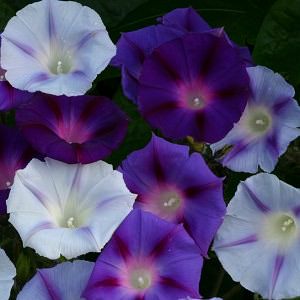 VN00020
HAZEL­WOOD BLUES Morning Glory Seeds
Flowers range from the palest sky blue to the deepest midnight violet. This glorious mixture brings on the blues, in a very good way. Each beautiful trumpet found in Hazelwood Blues is marked with a highly ornamental star. Throats of flowers glow pink or pure white. Robust, fast-growing vines quickly climb to 5-7 ft. tall.
---
VENICE SERIES Morning Glory Seeds Ipomoea purpurea
Each trumpet-shaped morning glory sports a unique, variable pattern of bicolor splashes and stripes. Vigorous 6 to 8 ft. tall vines create an explosion of festive color. Plants bloom mid-summer into fall. For a truly carnival-worthy display, plant Venice Blue and Venice Pink morning glories together.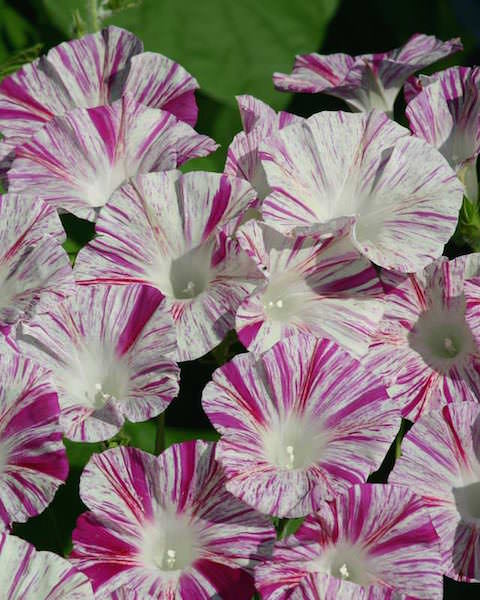 VN00022
VENICE PINK Morning Glory Seeds
White flowers striped raspberry pink, with white throats. Vigorous vines grow 6-8 ft. tall. A Fleuroselect Approved Novelty.
---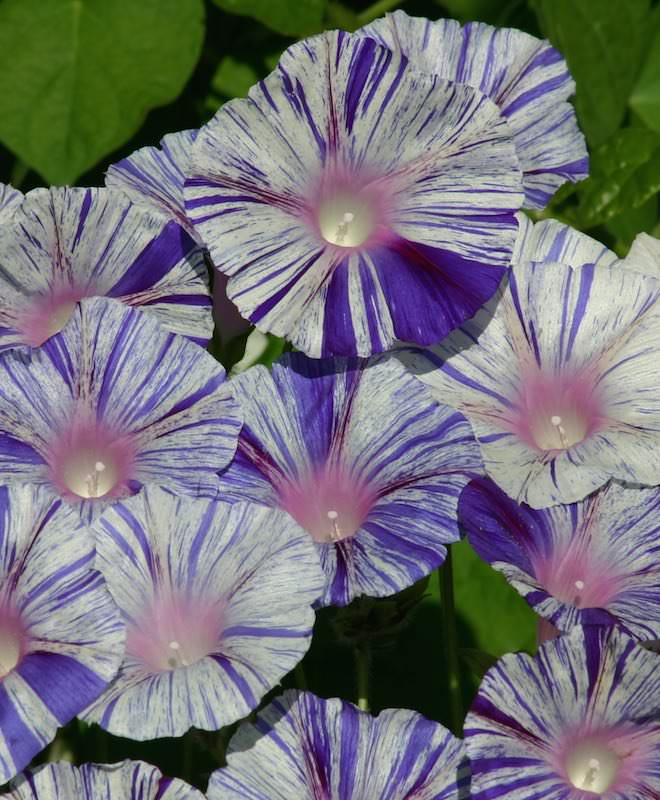 VN00017
VENICE BLUE Morning Glory Seeds
White trumpet-shaped flowers striped violet blue with rosy throats. Vines grow to 6-8 ft. tall. A Fleuroselect Approved Novelty.
---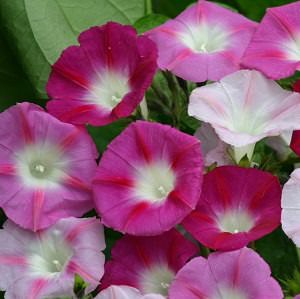 VN00021
LA VIE EN ROSE Morning Glory Seeds
This delightful morning glory mix includes just about every shade of rose, from the softest baby pink to deep rosy crimson. Each unique trumpet is marked with a dark star and bright white throats cause flowers to glow. Fast-growing vines to 5-7 ft. tall.
---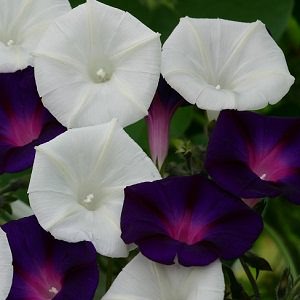 VN00024
SHADOW DANCE Morning Glory Seeds
A duo of bewitching trumpet-shaped flowers in darkest midnight blue with glowing purple centers, and pure moonlight white. Vigorous 5-7 ft. tall vines.
---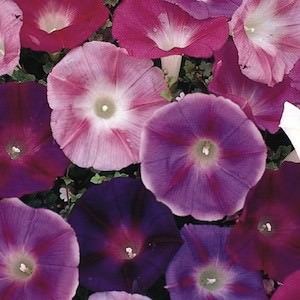 VN00066
IMPER­IAL FORMULA MIX Morning Glory Seeds
The unique flowers found in Imperial Formula Mix morning glories reach a whopping 6 in. or more across. Blooms in shades of pink, rose, and violet are marked with contrasting stars. Handsome ivy-like leaves are solid green, or green marbled in cream. Vigorous vines grow to 12 ft. tall.
---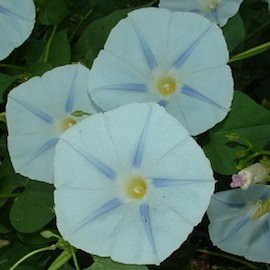 VN00036
BLUE STAR Morning Glory Seeds
The light blue trumpet-shaped flowers of Blue Star morning glory are marked with a darker blue star. Extra large blooms reach 5 in. across. Vigorous growing vines to 15 ft. tall.
---
Time-lapse video of morning glory flowers opening and closing and vines twining.
Back to Top
How to Plant Morning Glory Seeds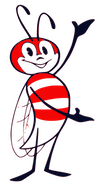 Sow Morning Glory: Nick the pointed end of the morning glory seed with a nail clipper or knife. After nicking, seeds can optionally be soaked in water up to 12 hours. Then, sow in 2 in. pots or cell packs, cover with ¼ in. of soil. Kept at 70°F., seeds germinate in 7-21 days. Morning glory seed can be direct sown after all danger of frost, 6-8 seeds per foot. Thin seedlings to 12 in. apart.
Grow Morning Glory: Grow in full sun. Morning glory vines need good drainage, tolerate drought and poor soil. Blooming is heavier and growth is faster with regular water. Avoid overwatering and nitrogen-rich soils which produce more leaves and few flowers. Rarely bothered by pests or disease. Flowers from midsummer until frost. Hummingbirds love trumpet-shaped morning glory flowers.