Edible Flowers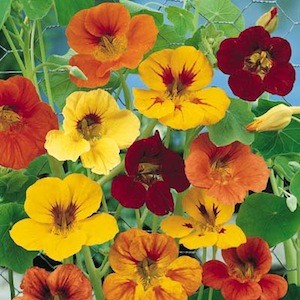 One of the joys of gardening is to be able to eat what one has grown. Many gardeners choose vegetables and herbs for their culinary properties, but did you know there are a large variety of edible flowers as well?
Flowers can be used for a variety of culinary purposes (and in fact, one of the most expensive seasonings, saffron, is made from the stigmas and styles of one particular variety of crocus). Many herbs also have edible flowers. Flowers or flower petals can be used as garnishes on desserts (candied violets are a well-known example), on cakes, in candy, in beverages, and can make a colorful and flavorful addition to salads. Cucumber and squash blossoms can be chopped and sautéed for tacos or stuffed, battered, and fried. Some flowers are sweet or floral-tasting, while others can be peppery, citrus-y, or bitter. You can use flowers to flavor oils, vinegars, and liqueurs as well.
Don't eat flowers grown for commercial use (like you might find in a supermarket's floral department or at a flower stand). Make sure the flowers you choose were grown without pesticides or untreated manure. Wash all flowers before eating them! And as with anything new or unfamiliar to you, start slowly when introducing edible flowers to your own diet.
Edible Flowers and the qualities they bring to your table.
Written by Emily.