Powdery Mildew
Identification, Prevention and Control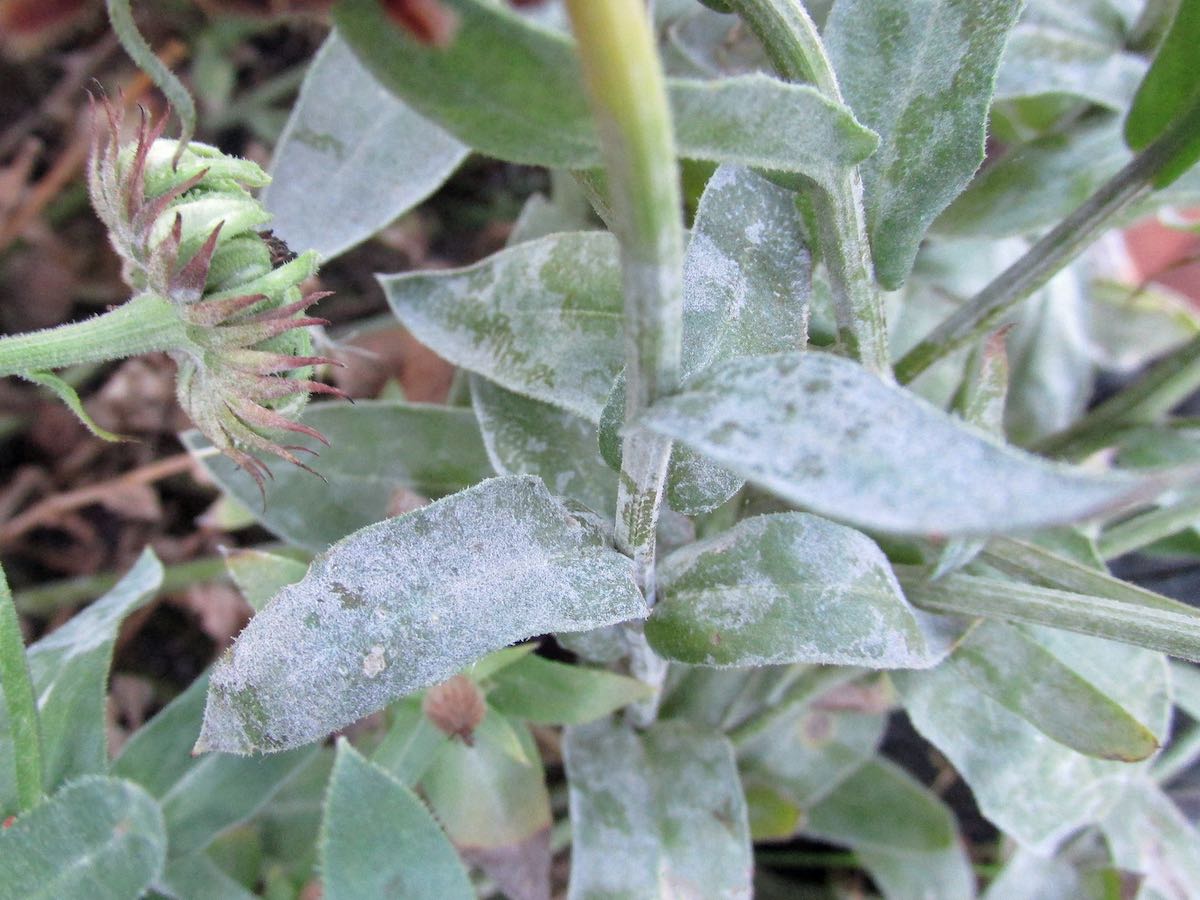 About Powdery Mildew
Powdery mildew is a common fungal disease that affects a wide variety of plants and is caused by many different species of fungi. Infections generally occur when temperatures are mild, between about 60 to 80 degrees, and are most severe when nights are cool, days are warm and plants are crowded or shaded. In many areas, infections are common in the spring and fall. Humidity can help powdery mildew infections grow but moist conditions are not required for infections to grow or spread. Infections usually start in the lower sections of plants where there is less airflow. Infections are spread by wind, water and insects.
Identify Powdery Mildew
Powdery mildew is easily recognizable by its powdery white appearance that starts as small spots and can eventually cover leaves, stems, flowers, and even entire plants. Infections can cause discoloration or loss of leaves and also deformed leaves and other plant parts. Yields and and flavor can both be reduced by infections. Powdery mildew infections do not usually kill plants.
Plants Commonly Affected by Powdery Mildew
A wide variety of plants are affected by powdery mildew, including many commonly grown ornamental and edible plants.
Some of the many ornamental annuals and perennials affected by powdery mildew include: aster, bee balm, begonia, calendula, calibrachoa, campanula, chrysanthemum, columbine, coreopsis, cosmos, dahlia, delphinium, gaillardia, geranium, heliopsis, joe-pye weed, lupine, penstemon, petunia, rudbeckia, salvia, snapdragons, stokesia, sunflower, verbena, veronica, yarrow, and zinnia.
Some fruits and vegetables affected by powdery mildew include: bean, cucumber, lettuce, melon, pea, pepper, pumpkin, squash, strawberry, and tomato.
Prevent and Control Powdery Mildew
Plant varieties with greater resistance to powdery mildew when available.
Give plants extra spacing and grow in areas with more sun.
Prune plants near the ground and any overly dense areas of foliage to allow better airflow.
Avoid over-fertilizing plants with nitrogen. Consider using a slow-release fertilizer and avoid applying nitrogen late in the growing season when infections are more common.
Remove infected parts of plants and all debris around them. Infected parts and debris should be destroyed, not composted. When pruning infected plants, your pruning tool should be disinfected after each cut with a bleach and water solution (1 part bleach to 4 parts water).
Overhead watering can help wash powdery mildew spores off of plants. This is best done in the morning so excess moisture can dry faster during the heat of the day.
Use a Natural Fungicide to Treat Powdery Mildew
Use potassium bicarbonate or baking soda to help prevent, control or eliminate powdery mildew infections.
Mix 1 tablespoon potassium bicarbonate or baking soda, 1 tablespoon vegetable oil, and 1 tablespoon liquid soap (not detergent) for every 1 gallon of water.
Use a spray bottle or garden sprayer to apply solution to all surfaces of both infected and healthy plants.
To avoid burning foliage, spray treatments on cloudy days or around sunset.
Avoid applying on sunny or extremely hot days.
Reapply after rain and every 1 to 2 weeks.
We have found potassium bicarbonate to be more effective than baking soda, but baking soda does appear to work well when infections are caught early.